Follow live as Tyson Fury boxes ex-UFC champion Francis Ngannou in Saudi Arabia
Tyson Fury and former UFC champion Francis Ngannou are meeting in the boxing ring tonight, in one of the most controversial fights in recent memory.
Fury, 35, reigns as WBC heavyweight champion but has not fought or defended his title since December, when he beat Derek Chisora for the third time to stay unbeaten. The Briton is due to finally face unified champion Oleksandr Usyk next, but he must first navigate this unique match-up with Ngannou.
Ngannou, 37, vacated the UFC heavyweight title upon leaving the mixed martial arts promotion in January and has not fought since January 2022, but he is deemed the hardest puncher in combat-sports history – potentially giving him a shot at a seismic upset in Saudi Arabia.
Can the Cameroonian, with heavyweight boxing legend Mike Tyson in his corner, shock the world? Or will Fury produce a boxing clinic and coast towards his planned clash with Usyk, which is set to take place in Riyadh like tonight's main event? Find out with our live fight updates and results, below.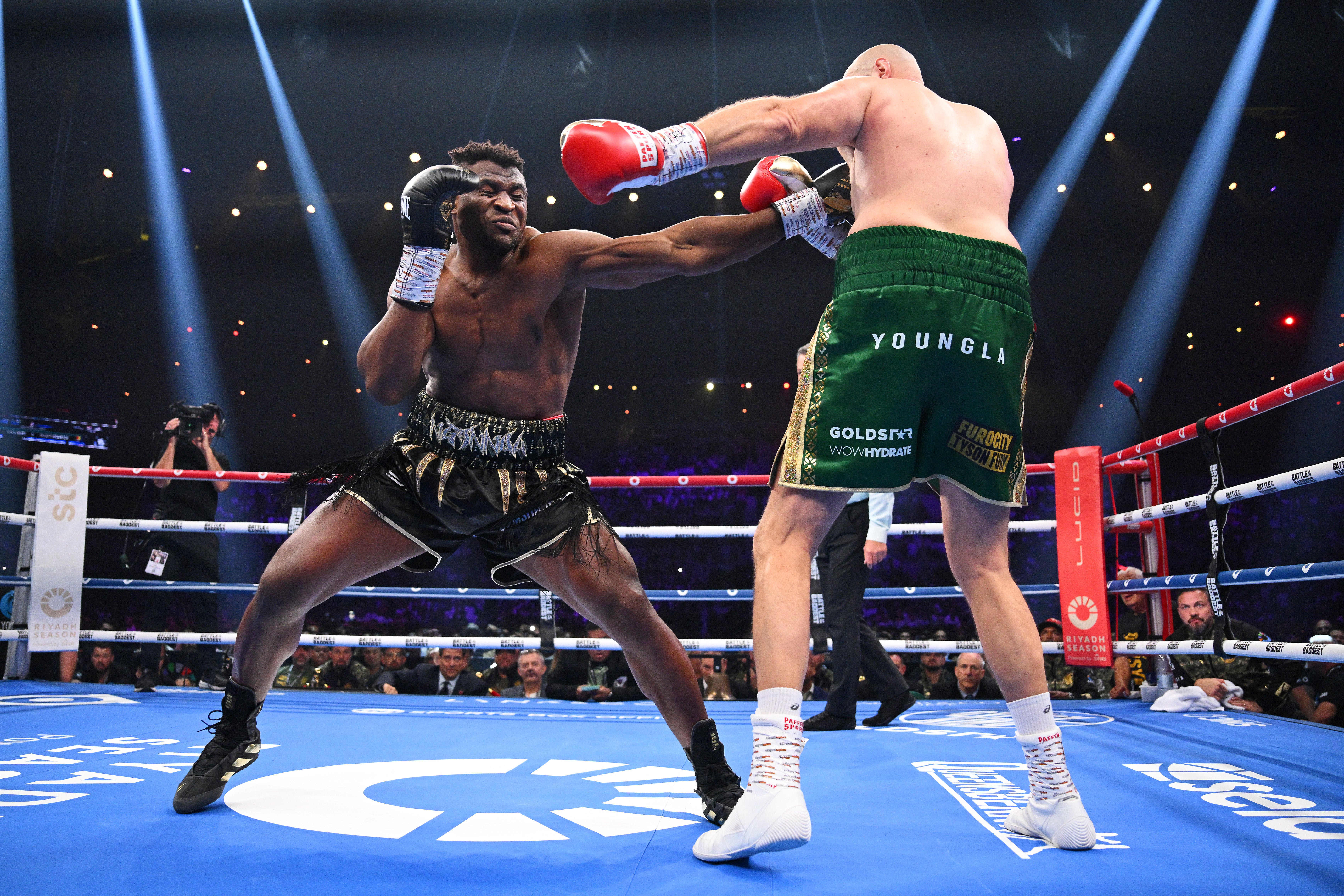 Fury vs Ngannou: Round 4
What now, then? Does Ngannou go for the finish, or does he hold off? I can't believe I just wrote that…
Fury misses with a left hook. Ngannou lands a cross, then jabs to the body.
Ngannou looks so relaxed in there, he is almost dancing around.
Fury skims a left hook off Ngannou's head, but Ngannou is unperturbed and responds quickly. A clinch ensues, with both men landing shots on the inside. They separate, and both boxers open up now.
Ngannou has just powered Fury onto the ropes. Fury lands a chopping cross. Now a one-two! Now both men land simultaneously! It feels like either could go down at any moment…
Fury misses with a sloppy right cross as he steps in.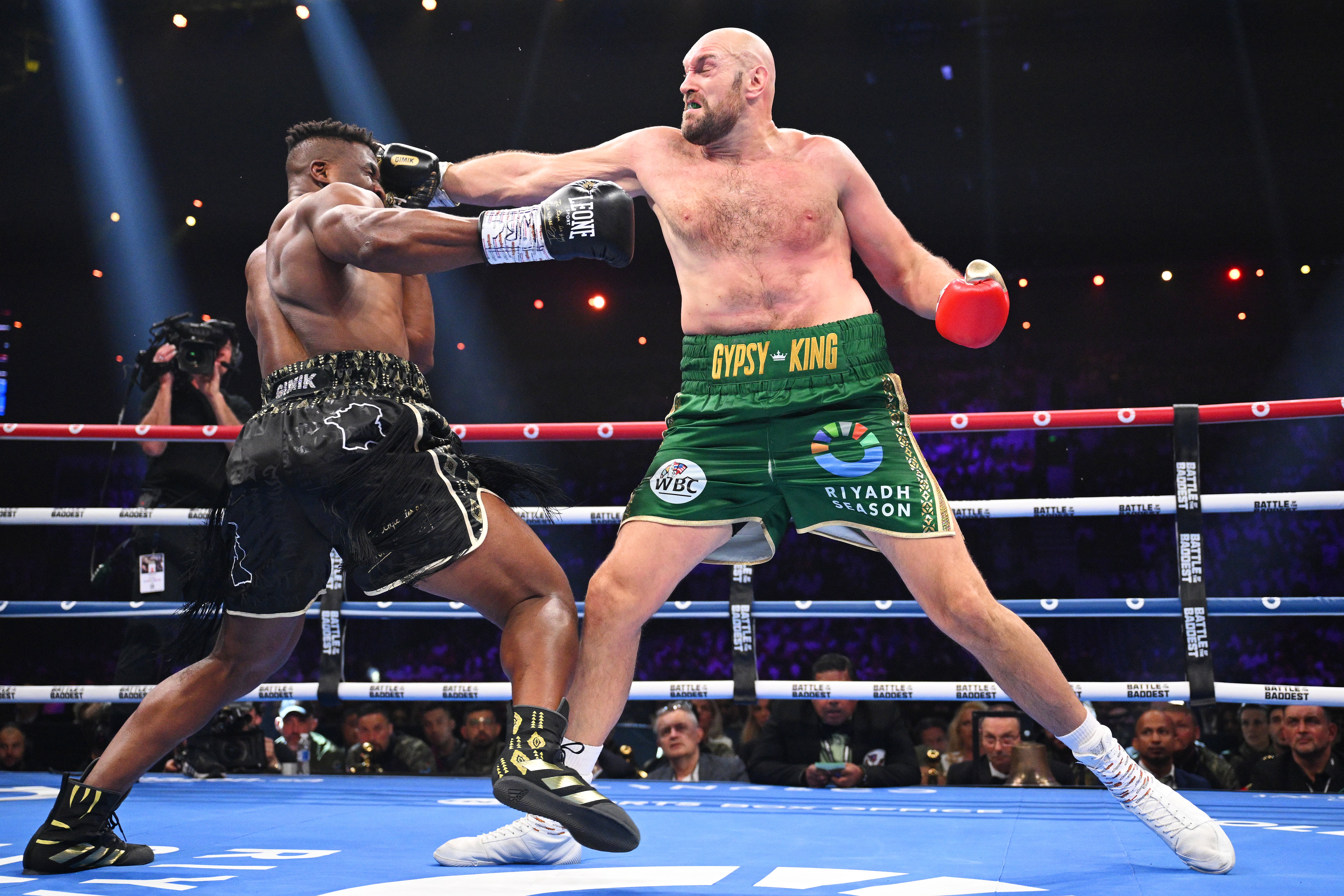 Fury vs Ngannou: Round 3
Ngannou laughs in Fury's face, as the Briton sits on the canvas! WHAT JUST HAPPENED?
Fury beats the count. I am shaking. Fury survives to the end of the round, and he and Ngannou touch gloves.
Wowwwwwww……..
Fury vs Ngannou: Round 3
Fury pawed at his forehead after leaning into the left hook that cut him. Later in the round, Ngannou got good head control in the clinch and fired off a nice uppercut.
Round 3. Both men are back to standing orthodox. Lots of jittery feints from Fury. Ngannou stays calm in front of him. Stern jab by Ngannou. Fury comes back with a cross up top.
In case anyone was wondering: Yes, Ngannou can box. And you know what? He can box pretty well.
Ngannou covers up to block a cross, then DROPS TYSON FURY WITH A LEFT HOOK! OH, MY WORD!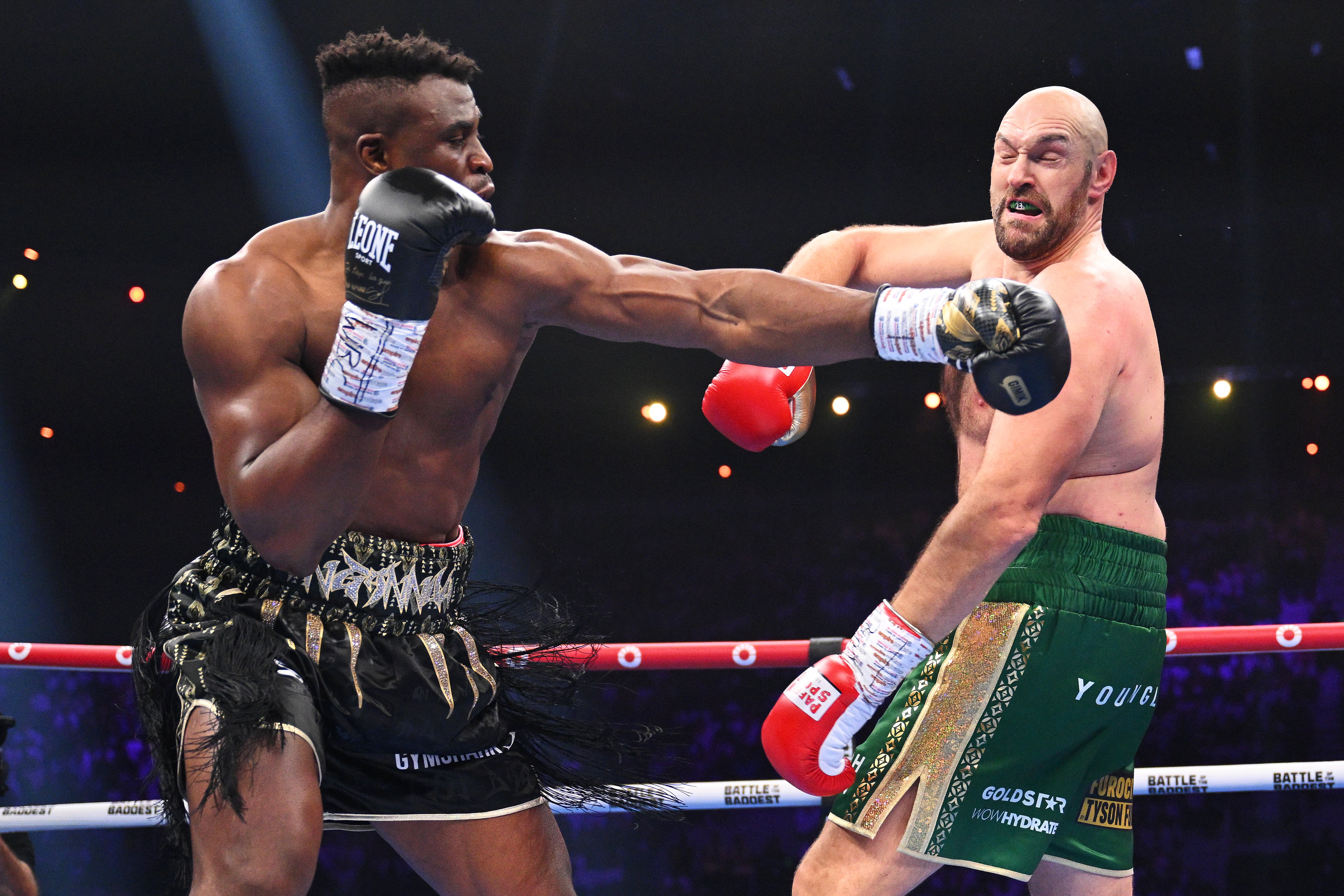 Fury vs Ngannou: Round 2
Strong jab to the body by Ngannou, who then bites heavily on a jab effort by Fury.
Slick jab by Fury, who then steps off to his left. Ngannou chases Fury, missing with a left hook to the body but landing on his next attempt.
Another couple of jabs by Fury, who then ducks into a left hook! Great shot by Ngannou!
Fury has been cut on the forehead! Yeah, against a martial artist?
Now both men go southpaw! Decent cross from Ngannou in that stance.
The heavyweights barrel into a clinch, but they don't stay there long. Fury initiates another one, though.
Fury vs Ngannou: Round 1
Both fighters stand orthodox. Everyone in the crowd is on their feet.
Fury misses with a hook. Ngannou jabs to the body but is tagged with a counter cross. Both men miss with left hooks. Ngannou tries for a right overhand but misses.
Decent, step-in jab by Ngannou, then a bit of punching in the clinch. The heavyweights separate. Fury jabs to the chest.
Both fighters land simultaneous jabs. Ngannou can't quite time a left hook, but it's almost on point.
The Cameroonian fires to the body again. Solid right hook to the body by Ngannou! Good right cross from Fury upstairs, though!
Ngannou with a grazing cross of his own! Fury steps in with a jab; Ngannou's counter left hook partially lands!